OUR DELEAT METHOD
(DEcompression, LasEr, Active Therapeutic ATM®2)
Deleat (delete) your pain with Broadview Spine & Health Centre and our unique approach to spinal health incorporating non-surgical spinal decompression, Laser therapy and the Active Therapeutic Movement system®2.
Non-surgical spinal decompression therapy is an advanced form of care for neck and back pain of a musculoskeletal nature. This specialized form of traction is used to relieve the pain, tingling and/or numbness caused by compressed or 'bulging' discs in your neck or back.
​
THE TREATMENT
(Lumbar Spinal Decompression)
In many cases of spine or extremity joint pain, the inflammation and pain and must be dealt with quickly.​
Active Therapeutic Movement utilizes an innovative way to isolate weak muscles that are contributing to chronic pain associated with your particular condition. The Active Therapeutic Movement (ATM®2) unit allows the patient to do their rehabilitation in a functional pain free position, reinforcing the central nervous system connection to the muscle group.
​
Active Therapeutic Movement system®​2
I have been a patient of Dr. Joe Lawrence for 20 years on and off .... He is a healer and knows the human body inside and out. He has helped me through all my injuries and even stomach issues throughout my life and I have seen him help and heal many people who are close to me. #healer #Dr.Joe
- Teena N.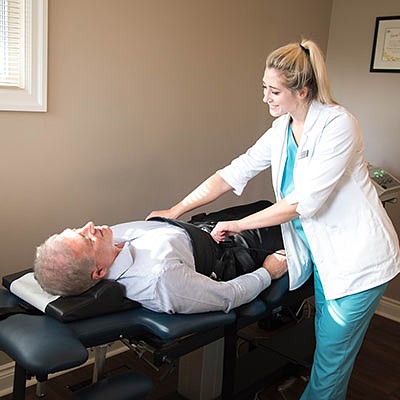 You may be a candidate for deleat or chiropractic.
Call us today so we can better understand your condition.​
We are a unique health care centre that specializes in leading edge spinal care.​
WELCOME TO BROADVIEW'S SPINE HEALTH CENTRE
BROADVIEW
SPINE & HEALTH CENTRE